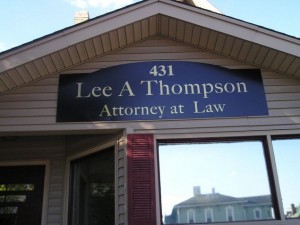 Serving the People of Fairfield County and Surrounding Communites Since 1984
The Law Office of Lee A Thompson is committed to providing effective legal representation in many different legal areas to meet your needs. Mr. Thompson has been serving the people of Fairfield County and surrounding communities since 1984. Lee is licensed to practice in all courts, both State and Federal, in Ohio.
Seeing an attorney can be a traumatic experience for many people. While seeking legal advice before problems arise is always best, it seldom works out that way. Something has happened in your life that is emotionally draining or causes a high level of stress for you. Now you are sitting in an attorney's office, maybe for the first time ever. Many of life's experiences can be overwhelming and oftentimes a person may feel alone. This does not have to be the case. It is the role of the attorney and firm to handle the uncertainties facing you and to take over the burdening tasks you encounter during these difficult times.
It is the pledge of this firm to you to assist you with legal matters, relieving you of the burdens that brought you in. It is essential for you to have peace of mind knowing that your legal matters are being handled with your best interests in mind. Whether it is family law, wills and estates, workers compensation, social security, personal injury or a wide range of other matters, it is the attorney's job to be available to respond to those needs.
The fees for legal services are in three forms. A retainer, with an hourly fee, contingent (percentage) fees in certain cases and in some matters, a flat fee for services. The fees for legal services will be discussed in detail at your initial consultation and the attorney-client relationship will begin after an appropriate attorney-client contact is executed.
The information you obtain on this site is not, nor is it intended to be, legal advice. You should consult an attorney for advice regarding your individual situation. We invite you to contact us by phone, email, fax or letter so that we may assist you. Contacting the Law Office of Lee A Thompson does not create an attorney-client relationship. Please do not send any confidential information until such time as the attorney-client relationship has been established.
We welcome the opportunity to serve you.